The 5G-OR demonstration project aims to establish the next generation of a 5G-enabled operating room (OR) ecosystem to improve patient outcomes. The value of 5G will be shown in 4 relevant use cases in 3 OR test environments equipped with interoperable 5G infrastructures in hospitals in Strasbourg, Berlin and Mannheim.
Mission
Creating a demonstrator of a Franco-German 5G private network application ecosystem for hospitals with a specific focus on the (OR) environment
5G-OR is centered around two concepts that together will define the next generation of a 5G-enabled OR ecosystem intended to improve patient outcomes
Enabling better diagnostics, more accurate and precise operations, and fewer complications by data-driven and AI-assisted surgery within a digital OR as the foundation for the following surgical revolution
Testing the communication technology 5G, and later 6G, as the backbone for efficient, digital, and AI-based healthcare, especially in the hospital
Use Cases
The consortium has selected 4 use cases to be operated in the Franco-German 5G ecosystem.
AI-assisted monitoring of patient vital signs employing 5G wireless sensors
AI-video analysis and provision of surgical data
5G-enabled robotic telesurgery
Mobile robotic OR assistant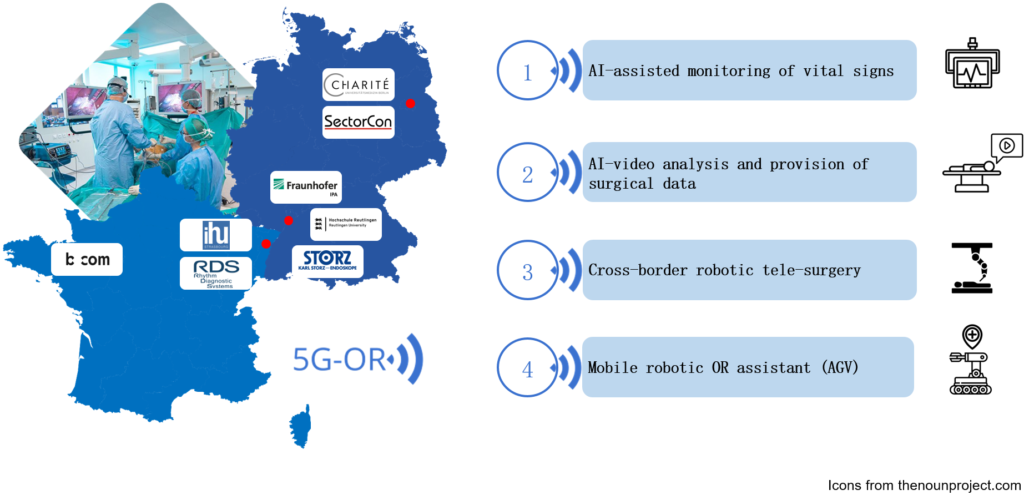 Expected Impact
Benefits for patients and the healthcare system
A new paradigm for communication within the OR staff
Enable innovations, business ideas, and market opportunities
Enhance the digital corridor France-Germany
The test environments will show the added value of 5G infrastructures, devices, and AI-driven solutions for the OR
Project Partners